Mini-Grants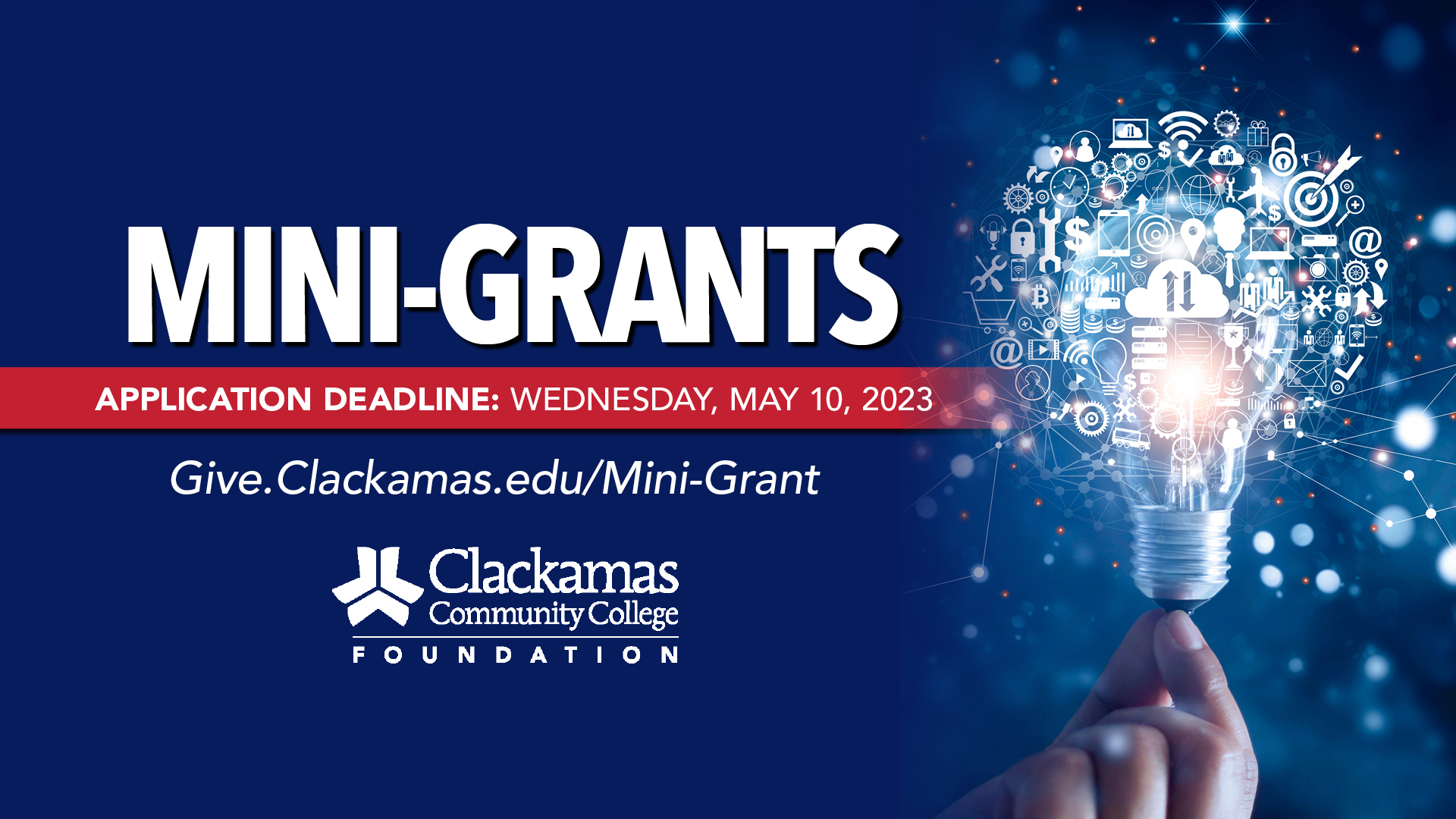 Applications for the 2023-24 academic year will open on April 14, 2023.
Click here to apply!
Please contact the Foundation at 503-594-3129 or elizabeth.spillman@clackamas.edu with any questions.
For more than 30 years, the CCC Foundation has been supporting innovative projects and curriculum through the mini- grant program. From implementing digital archiving systems and OER projects to kick starting the SNAP support services as well as the Clackamas Repertory Theatre, mini grants support new and engaging ideas that build student retention and completion, collaborate with the community and achieve tangible results.
Mini-grant applications should be for projects facilitated and completed during the 2023-24 academic year. Reporting includes a mid-year update and a final report to be completed by June of 2024. If you have received mini-grant funds in the past three years and have not submitted a report, you are not eligible to submit an application until a report is completed.
2023-24 Mini-Grant Focus
STUDENTS FIRST: Proposals that focus on innovative ways to increase student accessibility, retention and completion will be prioritized.
INNOVATION: The introduction of something new; a new idea, method, or device: the application of better solutions that meet new requirements, unarticulated needs, or existing market needs; something original and more effective.
COLLABORATION: The process of two or more people or departments working together to realize shared goals.
IMPACT: Projects supporting a variety of stakeholders at the college will be given preference. This may include students, employees, and community members.
Mini-Grant Information
Application opens: Friday, Apr. 14
Application deadline: Wednesday, May 10 at Noon
Grant amount: Maximum of $5,000
Duration: One year to spend, nonrenewable (July 1, 2023 - June 30, 2024)
Some examples of innovation from past awards are:
Textbook lending library
SNAP Support Service Kick-Off
CTE Showcase for Slavic community
Open Source Projects
ORPAT Testing
OER Textbooks – ESOL, Public Speaking
Note:
Proposals for projects covered by the CCC Innovation Fund, available through the Office of the Vice President of Instruction, will not be accepted.
Proposals for general support, travel and food costs, capital purchase or construction of classrooms or facilities will not be accepted. Please find alternative sources of funding for those items.
If requesting funds for personnel, include release time, SOA, payroll deductions, etc.
Programs awarded mini grants in two consecutive years are not eligible to apply for funds in the following year.